29. Manasa Water Pot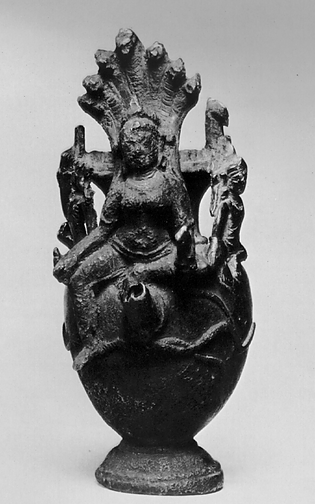 29. Manasa Water Pot
side view
Brass
Height: 16.3 cm
Tenth-twelfth century
Catalogue number 29.
Accession number 89.142.
Plain earthen pots containing holy water are used today in rural Bengal to worship Manasa, the goddess of snakes. They give a body to the goddess, whether she is given an image or not. This Pala-period metal water pot has been anthropomorphised with the three figures on its shoulder. Above the spout and sheltered by a hood of seven snakes sits Manasa, fruit in her right hand and a snake in her left. To her right is her husband Jaratkaru; on her left is her son Astika. A snake winds around the belly of the pot below the figures.
During the monsoon, when floods bring snakes with them, young girls perform vows for the welfare and health of their families using these pots at the center of ritual. In rural homes, pots are often filled with milk and kept in the kitchen so that stray snakes that enter can drink the milk and go away without harming the residents. The existence of several such metal pots from an early period suggest that the village practices of today have a long history.
---

Back to Previous Image

Forward to Next Image

Up to Nalin Home Page